Oh no, we have to save the Ohno's!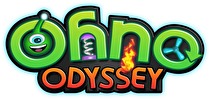 Big John Games newest title, Ohno Odyssey, will be launching on the Nintendo 3DS eShop on November 21.
The game features a crew of clumsy aliens known as the Ohno's. After their malfunctioning mothership has crashed onto Earth, the crew is spread out across the planet and need to be located and rescued.
Ohno Odyssey is a physics-based, action-puzzle game that tasks the player with guiding the Ohno's through 35 stages of gravity-defying challenges.
Check out the trailer below.