Almost as long as it takes to sail the Great Sea.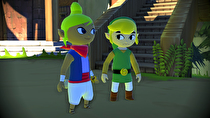 The Legend of Zelda: Wind Waker HD for the Wii U only had a half-year development cycle, according to Eiji Aonuma.
Speaking to Siliconera, Aonuma talked about the game's short, but still difficult, development time. "You had to consider the difference in hardware at the time." says Aonuma. "There is a technique known as toon shading, which gives the game a very animated look. At that time, the technique was established, but had not been used before by our staff, so everyone had to do everything by hand."
Aonuma also went on to mention having to manually edit some of the game's cutscenes, in order to comply with widescreen TVs. "For dramatic purposes, we would have characters we didn't want in the frame, but in 16:9 ratio, you could still see those characters."