Those birds are now bringing their anger to Nintendo's consoles.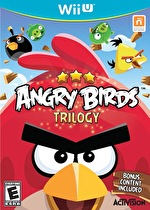 The Angry Birds Trilogy is now available for both Wii and Wii U.
The trilogy includes three of the Angry Birds titles: Angry Birds, Angry Birds Seasons, and Angry Birds Rio. The Wii and Wii U editions also come with original versions of the Anger Management and Fowl-Tempered Packs, which were previously available as downloadable content in the past, adding 11 episodes of holiday and seasonally themed stages. The game also features Off-TV play on Wii U and online leaderboards on both versions.
The Angry Birds Trilogy costs $49.99 on Wii U and $39.99 on Wii.