The HD TV revolution took the Big N by surprise.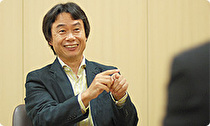 Miyamoto "wanted to go HD sooner," according to a recent interview with 4Gamer translated by KameDaniRyuu.
His reasoning behind holding off on making the Wii HD was that Nintendo thought "it was going to take some time for HD televisions to become common," but that "HD became more common about 2 to 3 years earlier than we had anticipated."
Going on to talk about the recent release of 4K televisions, Miyamoto stated that while he doesn't "see the need for Zelda in 4K," franchises like Pikmin could benefit from being able to show much smaller details.