In the Hero Bank world, the keyword is "money." Just like the real world, then.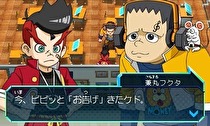 Hero Bank, a "battle life RPG" from Sega that centers around building an enormous financial fortune, has been announced as a Nintendo 3DS exclusive.
The prime component of this game is the Hero Battle, a hugely popular cyber sport in which competitors enter one-on-one fights with virtual avatars based on world heroes. Monetary management will also play a significant role, with each victorious battle yielding a large cash reward, and according to Sega, the ultimate aim of the game is to become a billionaire.
Hero Bank will launch in Japan on December 19. No word has been given yet regarding a Western release.