One of this year's biggest third party games could be arriving on a GamePad near you.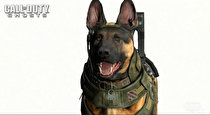 Call of Duty: Ghosts has been listed as coming to the Wii U on November 5 by Polygon and GameTrailers.
Though not officially confirmed by Activision, last year's Call of Duty title, Black Ops 2, was released on the Wii U.
Call of Duty: Ghosts is being developed Infinity Ward and follows a small group of elite soldiers, called Ghosts, after a large scale attack cripples the United States in the near future.