Mario, Sonic, and the gang come to Sochi to compete!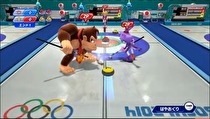 A new entry of the Mario & Sonic at the Olympic Games series has been announced for the Wii U at the latest Nintendo Direct.
The game will be greatly enhanced due to the Wii U's additional power, and also feature brand new games that takes advantage of using the gamepad in unique ways, as well as the Wii Remote plus, such as Curling, Doubles Figure Skating, and more.