Hunt with your friends across the Atlantic all from the comforts of your GamePad!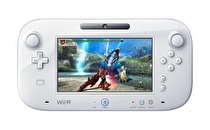 Capcom has announced that the Off-TV and cross-region play update for Monster Hunter 3 Ultimate is now available for the Wii U.
The update adds the much-requested ability for North American players to play with European players, and vice-versa. The update also adds Off-TV Play, which allows you to play the game solely on the Gamepad. Capcom originally stated that they didn't plan on adding this functionality, due to how seamless and essential dual-screen play is to the experience, but eventually gave into the fans' demands.
The update should download and install automatically when you boot up the game from the Wii U menu. Once complete, go under the Options from the main menu, then select Game Settings. From here, select the Wii U GamePad option, and choose Type 2. Type 2 will act as a mirror to the action on the TV, thus allowing Off-TV play.