Jump! Block! Slide! Jump! Kick! Jump! It's finally coming out!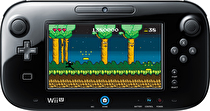 Bit.Trip Presents Runner 2: Future Legend of Rhythm Alien will at last be released on Thursday, April 11 on the European Wii U eShop, developer Gaijin Games announced today.
Runner 2, the follow-up to the popular WiiWare rhythm platformer starring Commander Video, launched in North America back in late February.
The game will be joined by several price discounts on existing eShop titles, including Trine 2: Director's Cut, Little Inferno, The Cave, and the recently released Toki Tori 2.