As for those nasty lockups, Gaijin Games is working on it.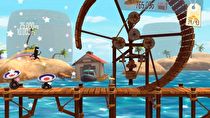 A patch for BIT.TRIP Presents...Runner2: Future Legend of Rhythm Alien is in the works, Gaijin Games' Alex Neuse announced.
The patch does the following:
-Makes it so the game does not appear to hang on the screen where it asks if you'd like to log in.
-Leaderboards will now only save with your highest score (not your most recent).
-Fixes false score reporting for in-game rewards.
-If an Internet connection is lost during play, players can reconnect under the leaderboards menu.
-Fixes an issue in the settings menu that resets your settings when you enter the menu.
-The mini-leaderboard at the beginning of the race will no longer falsely display an offline message.
Neuse says that the studio is attempting to fix the system lockups players are experiencing when shutting off the console during play, or attempting to exit the game via the Home button. However, these issues did not occur in their development consoles, so this is likely an issue affecting retail Wii U units.
There is no schedule given as to when the patch will arrive.