A whole new platforming adventure starring the younger plumber himself.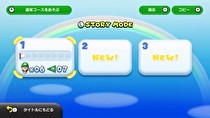 New Super Luigi U, a pack of DLC for New Super Mario Bros. U containing more than 80 brand new levels, was announced during today's Nintendo Direct presentation.
By selecting this add-on content at the main menu, every stage on the existing world map will be swapped out with different courses, with Luigi as the playable character instead of Mario. Pricing details for the DLC are currently unknown.
This announcement comes as part of Nintendo's 'Year of Luigi' campaign, which also showcased Luigi's Mansion 2 and the recently revealed Mario & Luigi: Dream Team for 3DS.
New Super Luigi U will be released within this calendar year.