In other news, changes to the notification system and Code of Conduct.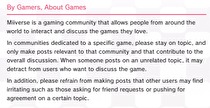 Nintendo has updated their Miiverse service again and some interesting changes have been made.
Users will now get direct updates from Nintendo, which are displayed in a special dedicated Miiverse community. In here, Nintendo will make announcements about their changes to the service, so that the consumer is constantly up to date. If you are in Europe, as seen in the video below, Marty from NoE will explain in various languages on what to expect.
For this first update, Marty talked about the changes to the notification system. You will now get messages once someone has decided to follow you, which makes keeping in touch with them easier. After commenting on someone's post, you will no longer get notifications from people who aren't the original poster.
Also, you can now only post once every five minutes on Miiverse. The change was made to prevent multiple posts from the same person appearing on screen. This won't change the structure of the comments however, which will remain as they currently are.
Finally, some changes have been made to the Code of Conduct, more precisely to the ''By Gamers, About Games'' section. Nintendo has decided that off-topic posts no longer have a place on Miiverse. They want you as a user to stay on topic and remain relevant to the discussion. Furthermore, they don't condone openly asking for friend requests or pushing for agreement on a certain topic.