Surprise! It's another new Lego game!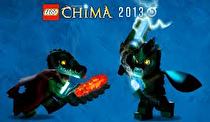 Legends of Chima, the recently announced line of Lego products, is receiving a video game adaptation. Titled Laval's Journey, the game is set to release later this year on Nintendo DS and 3DS.
The latest Lego title from series stalwarts TT Games, Laval's Journey expands upon the Legend of Chima universe, a mythical world where tribes of anthropomorphic animals battle for control over a precious natural resource known as the Chi.
According to a press release from Warner Brothers, the game follows the adventure of Laval, the warrior leader of the Lion tribe, and his allies after they are "called upon to fight for justice." Little else is known about it, though players will apparently be able to earn points within the game that can be redeemed to unlock content in Lego Legends of Chima Online, the accompanying online RPG playable for free on the Legends of Chima website.
Lego Legends of Chima: Laval's Journey is the second game in the Lego franchise announced for release this year, following the delay of Lego City Undercover. It is currently expected to launch on 3DS in summer 2013, and then soon after on DS in fall 2013.