The complete version of escapeVektor has almost escaped onto the eShop.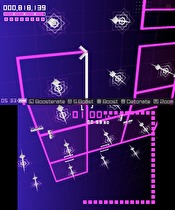 escapeVektor for the Nintendo 3DS from Australian developer Nnooo will be releasing December 20 on the Nintendo eShop in the US, Europe, Australia, and New Zealand. The game will be priced for those regions at $9.99, €9.99, AUD$13, NZD$17.
escapeVektor is an arcade-style action game where players must take control of Vektor, who has been trapped inside of the player's CPU. The overall goal of the game is to guide Vektor throughout the various levels in order to escape from his imprisonment. Many enemies and obstacles litter the landscape, with a variety of different hunting patterns. As the game progresses, old code and memories are unlocked, furthering the story.
escapeVektor: Chapter 1 was released last year on WiiWare and was to be one of four separate chapters. This new 3DS version features all of the content that was planned for the separate chapters plus more.
"There are 150 levels in escapeVektor, spread across 27 different worlds," said Nic Watt, Creative Director at Nnooo. "We've also included additional enemies and obstacles, 3 types of online leaderboard and a new Wildcard system. We're really happy with how this "complete edition" version of the game has turned out."