A welcome addition to iOS Mudds makes its way to Wii U.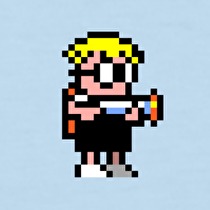 Mutant Mudds Deluxe, an upcoming eShop release for the Wii U, will contain the checkpoint system introduced in the recently released iOS version of the game.
The checkpoints appear as large signs that mark the players progress. Crossing one will allow the player to continue from that point should they die later in the level. The lack of such a feature in the original 3DS version of Mutant Mudds was lamented in some reviews.
Jools Watsham, co-founder of developer Renegade Kid, confirmed that the checkpoint system can be turned off in the Wii U version.
Mutant Mudds Deluxe is scheduled for release in early 2013.