Reggie says Wii U launch numbers are hindered only by supply.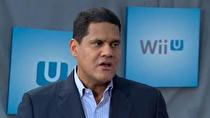 In its launch week the Wii U sold over 400,000 units, Nintendo of America president Reggie Fils-Aime told CNET.
Fils-Aime went on to say that Wii U deliveries sell out as soon as the systems hit the shelves, with supply the only limit on how well the console is performing.
In total, Nintendo hardware sold over 1.2 million units last week. 300,000 of that number came from the Wii, 275,000 from the DS, and 250,000 units going to the 3DS. Fils-Aime credited the DS's numbers to Black Friday sales, but noted that the 3DS currently sits at 6 million units sold, one million more than the DS within the same timeframe.