Australia may not see snow for Christmas, but a white 3DS should be close enough.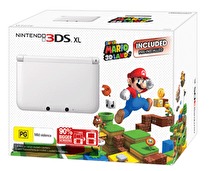 Two new limited edition Nintendo 3DS XL bundles will launch in Australia December 6, 2012.
These new bundles include a white 3DS XL and a pre-installed digital version of either Super Mario 3D Land or Mario Kart 7.
Both bundle variants will be available on the same day, unlike their staggered release in Europe.