And will those Cave Story+ updates find their way to the eShop version?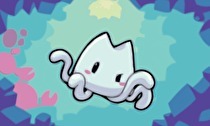 Nicalis has provided new details on their upcoming lineup, including scheduled release dates for Ikachan, and Aban Hawkins and the 1,001 Spikes.
The news comes from a Destructoid interview with Nicalis president, Tyrone Rodriguez. On the topic of Ikachan, Rodriguez plans to release the eShop and DSiWare versions simultaneously. The title, from Cave Story creator Pixel, includes new areas, enemies, and other features not found in the PC version. The publisher is hoping to release Ikachan in December.
Aban Hawkins and the 1,001 Spikes is on track to see a release in 2013 on the Wii U and 3DS eShop. The game's versus multiplayer mode will contain more than 12 characters to choose from, from the titular hero to Bit.Trip's Commander Video. New to this version is a mode where players compete to climb a tower, rescuing a damsel at its top.
The recently announced Yatagarasu, a 2D fighter from SNK veterans, is coming along well, with Nicalis aiding the Japan-based studio in bringing the title to the 3DS. Online multiplayer remains a possibility, but depends on it running well and not hindering any other aspect of the game.
The eShop release of Cave Story may see the holiday-themed "re-skins" provided to the Cave Story+ version found on Steam. If all goes well, the free update would arrive in December and contain the Christmas-themed sprites PC owners previously enjoyed.