Junction Point's Warren Spector explains how the new system's approval process might delay things a bit.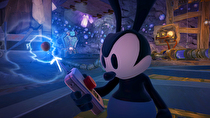 Epic Mickey 2: The Power of Two might be listed as a launch title for Wii U by Nintendo, but Director Warren Spector isn't so sure of the November 18 launch for the game, he said at a New York Comic Con roundtable.
After detailing how there are still a few kinks present in the Wii U version, which only began development six months ago, Spector explained: "The reason why we're not committed to a date on the Wii U version is that no one has been through Nintendo's approval process on the Wii U. We have no idea how long it will take for the game to go through approval. Disney is not going to be the reason why it will miss [November 18]."
Spector explained his development process during the roundtable, explaining how he likes to have a rough version of the game done early, allowing time to tweak and add to the game to make it as refined as possible by launch. He said that Epic Mickey 2 was in this rough form by February, meaning the Wii U version started development after this rough version was completed.
Disney and Junction Point originally talked to Nintendo about Epic Mickey 2 making the jump to Wii U shortly after E3 2011, but the team was not able to get their hands on the development hardware until the beginning of 2012. Developer Heavy Iron Studios, a former THQ subsidiary, is working on the Wii U port.
Every other version of Epic Mickey 2 is locked down for a November 18 release. The Wii U version is likely to hit that date, and we'll likely have confirmation on when it will come out within the next few weeks as Disney and company puts the finishing touches on the game and braves Nintendo's Wii U game approval process.