An award-winning composer is providing a "visceral hybrid action score" for the Wii U launch game.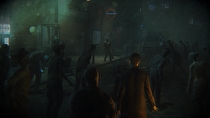 Renowned video game composer, Cris Velasco, is scoring the soundtrack for Wii U launch title, ZombiU.
Velasco, a winner at the Academy of Interactive Arts and Sciences Awards and a BAFTA nominee, has music credits on franchises such as the God of War trilogy, the Mass Effect games, Borderlands and Darksiders, to name a few.
His work on ZombiU is said to combine emotional string and piano compositions with instruments like the organ and distortion guitar, as well as haunting ambient sound effects. Ubisoft has described the soundtrack as a "visceral hybrid action score."
Set in a plague-ravaged London, ZombiU is a survival-orientated first person shooter. On their quest to stay alive, players will interact with three different survivor groups, each with their own distinct agenda and approach to this zombie apocalypse. The game is set to release at the launch of the Wii U in all territories.