Crashmo, a sequel to Pushmo, has been announced to fall during fall, quite literally.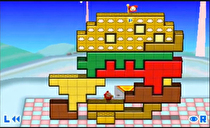 A sequel to Pushmo (Pullblox in Europe) called Crashmo (Fallblox in Europe) is coming to North America on November 22, and during the month of November in Europe.
The upcoming title will feature 90 training levels and 120 new levels. Players will still be able to create and share their own levels as in the first title, with enhanced features compared to the first game. Crashmo is to feature a new gameplay mechanic to the series by adding gravity to puzzle blocks as a challenge. Blocks will fall as you play.