The sequel to Nano Assault will be available to download on day one.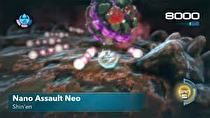 Nano Assault Neo has been revealed for the Wii U eShop. President of Nintendo Europe Satoru Shibata pulled back the curtain on the new shooter from Shin'en Multimedia coming exclusively to Wii U, in the recent European Nintendo Direct.
Much like its predecessor Nano Assault, released last year as a Nintendo 3DS retail title, Nano Assault Neo is a shoot 'em up in which you play a microscopic ship that fights deadly viruses. Stages take place either around a spherical object viewed from a bird's-eye perspective, or a more traditional level with the camera locked behind the ship.
The game will be controlled in typical twin-stick fashion, with the analog sticks on the Wii U GamePad used for moving and aiming respectively. While the game is displayed on the TV, the GamePad allows the player to dynamically change the mode of their ship using the touch screen, although it can also be played entirely on the GamePad alone.
Nano Assault Neo will be downloadable from the Wii U eShop when the console launches in Europe on November 30th.