Mario and friends will be set to welcome the Wii U in Japan.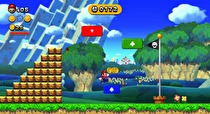 Two of Nintendo's Wii U first party titles, New Super Mario Bros. U and Nintendo Land, have been confirmed as launch titles for the Wii U's Japanese release during the Nintendo Direct press event.
In addition, Satoru Iwata confirmed the prices of these two launch titles. New Super Mario Bros. U will be priced at 5,985 yen, while Nintendoland will be 4,395 yen. Both cases were showcased at this year's Electronic Entertainment Expo (E3), and they are expected to be launch titles in North America.