Wreck your tomatoes next week on the Virtual Console in Japan.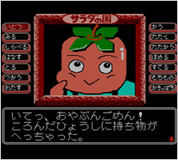 Wrecking Crew and Sarada no Kuni to Tomato Hime (Princess Tomato in the Salad Kingdom) are both making their way to the Nintendo 3DS eShop in Japan next week on September 19. The games, which are the Famicom versions, will retail for 500 yen each.
Wrecking Crew has been available to 3DS Ambassadors since late last summer in all regions, but the eShop addition will allow players who already own the game to make use of enhanced features, such as save states. Princess Tomato in the Salad Kingdom was originally developed by Hudson Soft and released on Famicom in 1988 and then on the Nintendo Entertainment System in North America in 1991. Players take on the role of Sir Cucumber who sets out to save the kidnapped Princess Tomato from the clutches of Minister Pumpkin. For more information about the title, feel free to read our Recommendations article for the Wii Virtual Console version of the game.
There is currently no word on when these games will be available for purchase on the eShop in the West.