Layton's second season comes to a close next year.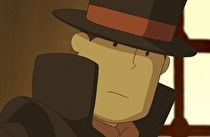 Layton Kyōju Chō bunmei A no Isan, translated to Professor Layton and the Legacy of Super Civilization A, has been announced for a release on the Nintendo 3DS next year. The title promises to have the same puzzle-solving that we all know and love coupled with the same charming art style we've come to expect.
Based on the characters revealed in the footage, this is the third and final game in the second, prequel trilogy of games that take place before the first three games in the series. Ominously, this game is also being described as Professor Layton's final adventure.