3DS XL owners won't go without charging cradles for long.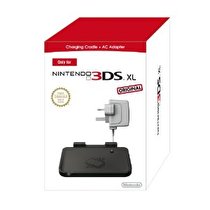 An official power adapter and charging cradle for the 3DS XL has been listed on Amazon UK. The set is listed to become available on August 24th for £19.99. The standalone cradle is also listed on NOA's online store for $19.
The 3DS XL in Europe and Japan does not come with a power adapter or charging cradle. Systems in other regions do not come with a charging cradle, making this the first view of the optional plastic holder.