All that glitters can now be plugged into a Wii Remote.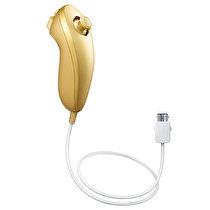 The Gold Nunchuck Wii accessory that was previously offered in both the Japanese and Australian Club Nintendo reward catalogs has now become available in North America.
Interestingly, unlike the Australian listing which ignored any actual relevance to The Legend of Zelda: Skyward Sword and its golden Wii Remote Plus pack-in, the US Club Nintendo site makes the direct connection.
"If you've got a gold Wii Remote Plus controller from the limited edition bundle of The Legend of Zelda: Skyward Sword at home, be sure not to miss this special reward."
The prize is on offer for a reasonable 900 coins, much less than its Australian price of 3000 stars early this year. The Nunchuk has limited availability, anyone wanting to snap up one of these golden gaming grips had better act fast.
Special thanks to Ethan for the tip!