Could Nintendo's new Internet push suggest a change of heart?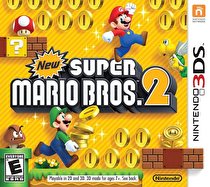 New Super Mario Bros. 2 now has an eShop price of TBD.
On July 4, it was revealed that the eShop price of the title had a listed price on the eShop at $39.99, but that has since been removed. Whether it suggests a change in price or Nintendo accidentally revealing the information too early is unknown.
This isn't the first time Nintendo accidentally leaked information about New Super Mario Bros. 2. Their online press site mentioned that the game was a download title before Nintendo officially revealed it.
New Super Mario Bros. 2 hits both the eShop and retail fronts on August 19.