A new demo of the game is also available in Japan.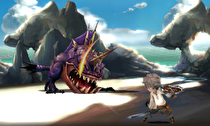 Bravely Default: Flying Fairy will release across Japan on October 11, according to the game's publisher, Square Enix.
With the game now about four months away from release, the Japanese eShop has received its third downloadable demo. This demo features some of the game's battle system.
In addition to the news of the games release, we learned of a collectors edition. This edition of the game will only be available through Square Enix's online store and is priced at 12,000 yen, while the standard game is priced at 6,090 yen. This special edition of the game includes the game as well as the soundtrack, an album of the games artwork, a large AR poster, and a protective case for your 3DS.