Wii U supports two GamePads, but when can we see it implemented into games?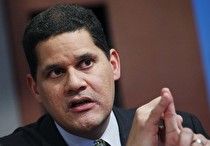 First and third-party titles for the Wii U supporting two GamePads will not be available at the Wii U launch or in the launch window.
"Games need to be built that can take advantage of the two GamePad controllers," Nintendo of America President Reggie Fils-Aime explained. "It's going to be well after launch for those game experiences to come to life." Reggie continued by saying that Nintendo expects developers to first figure out the best way to utilize the second screen (TV and one GamePad) in gameplay experiences before figuring out how to incorporate a third (TV with two GamePads) – it could take a while to master.
"Asymmetric gameplay is going to be the next major step forward, just like active play was when we launched the Wii. We think that's where developers will focus first, then there will be multiple experiences that have two GamePads."