We hope you didn't have your hopes up for a late E3 unveiling of Metroid Prime 4.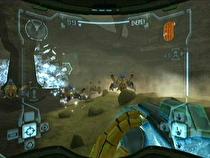 News of whatever project Retro Studios is working on won't be forthcoming anytime soon, according to an IGN interview with Nintendo of America President Reggie Fils-Amie.
When asked about the well-loved Texas studio, Fils-Amie responded with "If I disclosed what Retro is doing, I would have the president of Retro literally calling me right now saying, 'Reggie, what are you doing?' We love that people are interested. We love surprising people. I remember getting the questions before we announced Donkey Kong Country Returns. And I loved unveiling that. So... Rest assured, the team is hard at work. But I'm not gonna tell you what they're working on."
When pressed further about whether we'd be learning about the project anytime soon, Fils-Amie responded with "Um... Likely not."
Retro Studios was last seen with Donkey Kong Country Returns in 2010.