The 3DS launch title's sequel will hit Japan on September 13.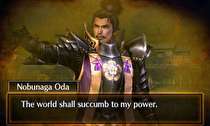 Samurai Warriors Chronicles is getting a sequel. According to a recent issue of Famitsu, the sequel to the 3DS launch title is called Samurai Warriors Chronicle 2nd (or, in Japan, Sengoku Musou Chronicle 2nd), and will be released in Japan on September 13.
Along with the expected addition of new generals, such as Takatora Toudou and Munenori Yagyu, the game also includes two new modes, titled Musou Enbu and Moushou Enbu. Musou Enbu is the game's main story mode and includes branching paths and multiple endings. In contrast, Moushou Enbu is a mission-based mode that supports both local multiplayer and Internet rankings.
As for 3DS owners outside of Japan, there is currently no information regarding a North American or European release; however, one is likely, as most games in the series have seen release in these territories. Nintendo even published Samurai Warriors 3 for the Wii in North America and Europe.