This legendary Pokémon can be obtained in either Black or White version.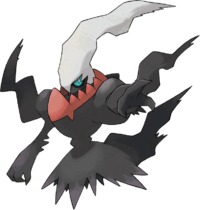 A Darkrai Wi-Fi event scheduled to begin May 9 has become available to English copies of the game one day early.
The Level 50 Darkrai can be received in both Pokémon Black and White. In addition, the Pokémon knows the Bad Dreams ability, and the moves Dark Void, Ominous Wind, Faint Attack, Nightmare and also holds an Enigma Berry. The Pokémon itself is a tie-in to the English language release of trading card set Dark Explorers.