Those fighting felines are making their way to handhelds everywhere.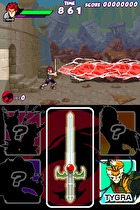 A video game adaptation of the ThunderCats cartoon is on its way to Nintendo DS this August.
ThunderCats for Nintendo DS will be a straight-forward side-scrolling affair, with players taking control of Lion-O. The game will have some basic platforming challenges, and hack-and-slash style gameplay against the lizard army that the ThunderCats oppose.
The other ThunderCat characters besides Lion-O do not appear as playable characters, but rather as support characters. The bottom screen contains icons for Pathera, Tygra, Wily Kit and Wily Kat which, when pressed, launches that character onto the screen in a support role. Also present is an icon for the Sword of Omens which fires a red laser blast outward from Lion-O
The game will be based on the 2011 revival that aired on Cartoon Network, rather than the original series from the 1980s. Namco Bandai will be utilizing voice actors directly from the cartoon series. The show began the second part of it's first season on March 24th.