The hundreds of cards will be tough to collect.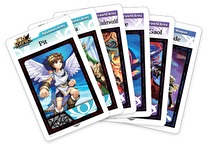 AR cards for Kid Icarus: Uprising will have limited distribution, according to a Nintendo representative at GDC.
Most cards will be available only through events, such as GDC, as well as tournaments. Some cards may be packed in with magazines, such as the latest edition of Game Informer, which included a "Power of Flight" card. The game also includes six cards to start with. As of now, Nintendo does not have plans to sell the cards at retail.
The first set of tournaments begins this week, starting at a GameStop in San Francisco on Thursday. The tournament continues in Orlando, Florida on March 11, Los Angeles on March 15, and New York City on March 22. Winners from each regional competition will fly to New York for a final tournament. There is no word on future tournaments, though they will be announced on the Kid Icarus: Uprising website if there are any.
AR cards unlock idols (moving trophies) and hearts (currency) in Kid Icarus: Uprising. In addition to displaying the idol, viewing an individual card shows information about the character or item on the card. Placing two cards head-to-head will pit them against each other in battle, where their stats affect the outcome. The battles are non-interactive.
The limited distribution of cards are meant to encourage trading. The idols are stored in the game's "Vault," so even if players are unwilling to trade, friends can still scan in the cards in an effort to complete their digital collection.
While Nintendo has not been specific as to the total number of cards, noting that there are "hundreds" in "Series 1," the serial numbers found on each card indicate that there are at least 336. The cards appear to cover every character, weapon, item, and ability in Kid Icarus: Uprising, no matter its significance. Starter sets given away at GDC come in random packs of 10. The AR coding allows for up to 14,348,907 different cards, so it won't be easy to generate your own.
Kid Icarus: Uprising launches on March 23 in North America.