The city of Manhattan will be yours to explore once again.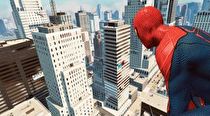 Side quest, mini-game, and art direction details have been revealed regarding the upcoming Spider-Man game, The Amazing Spider-Man.
In response to a question regarding the number of side missions on the game's Facebook page, the lead designer revealed that players will once again be able to roam around the city as they choose.
Roldolphe, the game's lead designer said "Our game brings back free-roaming in Manhattan, where you guys will be able to swing around and discover a variety of side missions, challenges and mini-games in addition to the main storyline".
The art direction in this game is also going to be more realistic than previous Spider-Man titles, according to the game's art director. He also revealed that there will not only be returning villains, but also completely original ones.
The Amazing Spider-Man is set to release this summer on Wii, Nintendo 3DS, and Nintendo DS.