Nintendo is finally seeing the success they hoped for in the 3DS.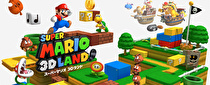 Super Mario Land 3D Land for the 3DS is the top selling game in Japan for November, according to a report by Famitsu and Enterbrain.
The Mario title, released on November 3, beat out several high profile efforts including Hatsune Miku for the PlayStation Portable and Call of Duty: Modern Warfare 3, which is published in Japan by Square Enix. In November alone, the game sold 542,842 units.
The Wii's Skyward Sword also fared well in November, selling 194,894 units, landing it at the number four spot in the chart. The other top 10 release for a Nintendo system was One Piece Gigant Battle 2 New World for the 3DS, which sold 134,943 units.
The full chart of best selling games is as follows:
01. [3DS] Super Mario 3D Land (Nintendo, 11/3): 542,842
02. [PSP] Hatsune Miku Project Diva Extend (Sega, 11/10): 234,627
03. [PS3] Call of Duty Modern Warfare 3 Subtitled Version (Square Enix, 11/17): 227,219
04. [WII] Zelda Skyward Sword (Nintendo, 11/23): 194,894
05. [PSP] Final Fantasy Type-0 (Square Enix, 10/27): 172,756 (total 676,144)
06. [PS3] Battle Field 3 (EA, 11/2): 157,484
07. [PS3] Uncharted 3 (Sony, 11/2): 153,363
08. [PS3] Sengoku Basara 3 Utage (Capcom, 11/10): 138,610
09. [3DS] One Piece Gigant Battle 2 New World (Namco Bandai, 11/17): 134,943
10. [PSP] Ore no Shikabane wo Koete Yuke (Sony, 11/10): 114,548