It's coming this week in Europe, but America will have to wait a little longer.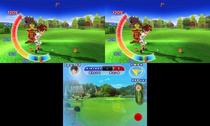 Let's Golf! 3D is coming out on the eShop in North America on August 11, according to Gameloft.
The game, an original 3DS downloadable title, is set for release this Thursday in Europe. It will be the first non-Nintendo-published original 3DS title on the service in non-Japan regions. The game is €6 in Europe, which, using the same-priced Xevious as a barometer, translates to $6 in North America.
The Let's Golf series has been on a variety of mobile platforms, including DSiWare in 2010.