Skyward Sword will be about the creation of the Master Sword, and Ganon will not be its main antagonist.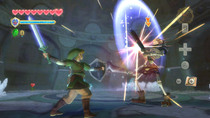 Zelda series producer Eiji Aonuma confirmed several new details about The Legend of Zelda: Skyward Sword in an interview with Nintendo Power.
When asked about the story in Skyward Sword, Aonuma mentions that while past Zelda stories were about Link finding the Master Sword, this story will deal with its creation. "This time around, it's more centered on the creation of the Master Sword–the way it was born, so to speak" Aonuma said. "Link kind of forges it along the way. It's more centered on that, which is a different pattern than we have had in a lot of ways."
Aonuma then further confirms that the Zelda in this game isn't a princess, but states that she and Link have a great relationship. Regarding her new look, Aonuma stated that "One of the things that I said before was that she is supposed to be Link's childhood friend, so we tried to give her a design that made her feel sort of relatable and have that warmth to her."
Skyward Sword will feature a harp, which Aonuma details in the interview. "This time around, the harp comes into Link's hands during the course of the game and is used to help the player find something important. You actually need to play the harp to use it, so to speak. The design is the same as the harp that Sheik has in Ocarina of Time."
He further confirms this by stating that "Yes, the harp is sort of the central instrument hat you'll see this time. With a lot of previous Zelda games it has been about inputting specific notes to compose things. Given the nature of what a harp is, and the fact that it's an instrument that one strums, this time we're using the Wii MotionPlus to really make it based on the rhythm of strumming to get across the musical element."
The interview then touches upon Lord Ghirahim, Skyward Sword's main antagonist. Aonuma explains that he was created in contrast to Ganon, a character that is very masculine and powerful. "Someone who is a little bit mysterious and kind of makes people think, 'well, I don't really know what to make of this somewhat terrifying character.' That was sort of my goal in making a character like Ghirahm, and that's basically why I did that" he said to the publication.
Aonuma was then asked about Skyward Sword's place in the Zelda timeline, stating that it does indeed come before Ocarina of Time, meaning Ganon won't make an appearance since the story doesn't deal directly with the Triforce.
Finally, Aonuma was asked about the birds seen in the flying race demo at E3. He explained that since Link lives in a world in the skies, the birds are essential in traveling to various places around the world.