Yee's reaction to the Supreme Court's decision is far from one of defeat; instead, he hopes to reintroduce the law.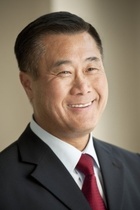 Today, June 27, 2011, the Supreme Court decided 7-2 against a California law that would prohibit the sale or rent of violent video games to children, as well as fine the retailer $1,000 for each offense. One of the law's main proponents, California State Senator Leland Yee, voiced his disappointment in the ruling while also claiming that the fight is not yet over.
"Unfortunately, the majority of the Supreme Court once again put the interests of corporate America before the interests of our children," replied Senator Yee.
Yee is basing his hope on the dissenting opinion of Justice Stephen Breyer. Justice Breyer feels that the law would only act as a modest restriction of developer's freedom of expression, noting that the law would only keep those under the age of 17 from purchasing the material without parental permission. The opinion goes on to say that the law is more about education than censorship; meaning that allowing for children to have access to violent material may cause them to act aggressively in the future.
Senator Yee praises 11 other states in their support of the law, while mentioning that he feels the past 8 years of the legal battle have raised awareness for his cause.
Yee's current plan is to review the dissenting opinions and hopes to find a way to reintroduce the law in a way that will be deemed constitutional.