As part of his GDC keynote address, Satoru Iwata announced the new game is being designed to "take full advantage" of the system's 3D display.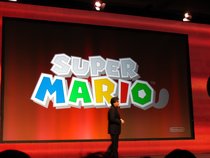 During his Game Developer's Conference keynote address today, Satoru Iwata announced that Nintendo EAD Tokyo, developers of the Super Mario Galaxy games, are currently working on a new Super Mario title for Nintendo 3DS.
The game is being designed to take full advantage of the 3D display on the 3DS.
Four screenshots and a "placeholder" logo was shown during the presentation. The logo looked like the "Super Mario" from Super Mario 64, but with a tail extending from the end of it, much like the Super Mario Bros. 3 logo. Iwata noted that the tail would be explained at this year's E3.