Which dog goes with which game in the Japanese releases.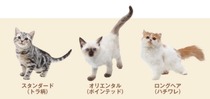 Nintendo opened their Japanese website for Nintendogs + Cats recently, showing a summary of what is known about the game so far, videos of the Japanese commercials, intriguingly cute pictures of cartridges, and a breed list for each game. There are lists of different dogs for each version of the game, and a summary about the cats.
Each game has nine dog breeds available at the start. Within the breeds there are slight differences in hair colour and body shape in each pet. The full set of 27 breeds can be unlocked through continuing play or through StreetPass. It's possible to have three puppies or kittens at one time in a room.
In terms of cats, there are three types and they are the same in all versions. The website shows a tabby, a Siamese, and a long-haired cat. As you progress through the game you earn the ability to bring up your own kittens. You can select from a handful of fur patterns. Kittens will take naps on the windowsill and between book cases, use their claws, and climb scratching posts. Cats will do their own thing regardless of you or your puppies, leading to a carefree coexistence.
The list of games and starting dog breeds is below.
Toy Poodle and Friends
Toy Poodle
Pembroke Welsh Corgi
Mini Schnauzer
Boxer
Bull Terrier
Labrador Retriever
Shih Tzu
Jack Russell
Pomeranian
French Bulldog and Friends
French Bulldog
Shetland Sheepdog
Cavalier King Charles Spaniel
Chihuahua
Dalmatian
Yorkshire Terrier
German Shepherd
Husky
Basset Hound
Shiba and Friends (Golden Retriever and Friends for US/Europe)
Shiba Inu
Golden Retriever
Beagle
Mini Pinscher
Dachshund
Maltese
Great Dane
Pug
Cocker Spaniel