A trademark filing by Kadokawa gives away the Western title for Yuji Naka's newest Wii and 3DS game.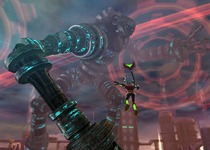 The recently announced collaboration between Yuji Naka's Prope and Kadokawa Games, Tenkuu no Kishi Rodea ("Rodea, Machinist of the Skies"), already has a name in North America. Kadokawa Games has filed for a trademark for "Rodea the Sky Soldier."
The title, which is being developed for both the 3DS and Wii, is said to feature simple controls and an emphasis on flight. Along with the revelation of a title the first batch of screenshots show the titular Rodea engaging in aerial combat. It's not clear which version of the game these images are from.
No details regarding release are currently available, however, given the trademark, a western release seems likely.