The director of the upcoming Kid Icarus: Uprising talks about players with shaky hands.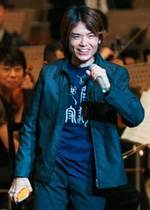 Masahiro Sakurai, Kid Icarus: Uprising and Super Smash Bros. Brawl director, has commented about the Nintendo 3DS, specifically on how it should be played.

When asked about how the 3D effects could be affected by the shaky hands of a player, Sakurai suggested that the system should be kept as still as possible so the visual effect isn't lost. This is because the 3D effect is achieved by how the eyes are set on the system. If the system is moved around too much there could be issues. He also talked about how the 3D could make eyes tired and emphasized use of the 3D Depth Slider available on the system.
Kid Icarus: Uprising is the first Kid Icarus game in years, and will be demoed at Nintendo World 2011, along with other announced 3DS titles.