Famitsu details the new story-based mode as well as usage of the 3DS's touch screen.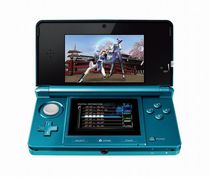 Famitsu has revealed new details on Dead or Alive Dimensions, the latest game in Tecmo's 3D fighting series for the Nintendo 3DS. The first of these is the Chronicle Mode. Chronicle Mode is where the game's story will be developed. As the player obtains new moves throughout the game they will also be shown new stories behind some of the scenes in the game, including those that weren't revealed to the player before. Famitsu presents this mode as a recap of the Dead or Alive storyline.
In addition, Famitsu revealed how the 3DS's touch screens will be used in Dimensions. Attacks will be mapped out on the bottom of the screen. Players wishing to automatically pull of a move can do so by tapping the lower screen during a battle. If players desire to do a move on their own, a command is also shown.
The print version of Famitsu also has additional details on characters. Returning brawlers include Helena, Ryu Hayabusa, Christie, Hitomi, and Bayman. Dead or Alive Dimensions is expected to be a launch title for the Japanese release of the 3DS.