Cave Story explores the DSiWare service, and its WiiWare counterpart receives a demo.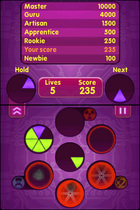 Headlining this week is Cave Story, Nicalis's indie sensation. Starting life as a free PC game by Pixel, the game received a WiiWare update, which was released on March 22, 2010. Today, a demo of the WiiWare version has been added to the demos section of the Wii Shop Channel. In addition, a DSiWare version was released today. For 1,000 DSi Points ($10), players will get to experience Mimiga Village and uncover the plot behind their existence.
The second DSiWare title this week is Frenzic, a puzzle game from Two Tribes that promises to challenge players' minds with gameplay that is easy to learn, but challenging to master. Frenzic can be downloaded for 200 DSi Points ($2). From Big John Games comes this week's third DSiWare title, Spot It! Challenge. Based on the Spot-It series of books by Capstone Press, the main objective is to spot different objects in 10 different puzzles. The item-finding game is priced at 200 DSi Points ($2).
Lemon Games has the first WiiWare title for the week, Airport Mania: First Flight. The 500 Wii Point ($5) title has players going to many airports trying to catch flights and avoiding delays. From airports, we jump to disc golf with HB Arcade Disc Golf from HB Studios Multimedia. The 1,000 Wii Point ($10) game is a disc golf simulator where players can take control of how they toss the disc as they try to get as many discs in the basket as possible.
The Virtual Console section of the Wii Shop Channel receives the final game for the week, Magical Drop II for the Neo Geo. A 900 Wii Point ($9) puzzle title, players will be popping balloons of the same color and creating chains in order to gain the highest score possible.