Alex tells a story filled with love, loss, and too much StreetPassing.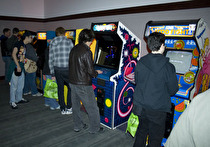 Almost three months ago, I started writing for Nintendo World Report with no expectations whatsoever, being nothing more than a listener of Radio Free Nintendo and occasional reader of the site. I had never been to a video game convention, I had never been given access to a game before a majority of the public, and I had never even had in-person video game conversations with people until this point. After one thing leading to another (as is often the case) I found myself with a media badge talking to developers and hanging out with members of a site I've had a one-way relationship with for about four years or so. The point of this blog is to chronicle my day, the day of someone who went from doing absolutely nothing to doing absolutely everything.
After arriving at the Boston Convention and Exhibition Center at 9:20 in the morning, I figured there was enough time to get my media badge and still be able to get a good seat in the Connectivity panel at 10. Unfortunately, I had no idea how long the media line would end up being, and as I was internally complaining about where the back of the line was, a cheery PAX Enforcer pointed out I was actually at the halfway point. So, trudging to the back, I waited out 50 minutes experiencing a constant influx of StreetPasses and overhearing some guys from Destructoid talk about all the different PAXs they'd been to. Eventually, I made it to the front, and actually ran into fellow staff members James Jones and Jonny Metts as I grabbed my pass.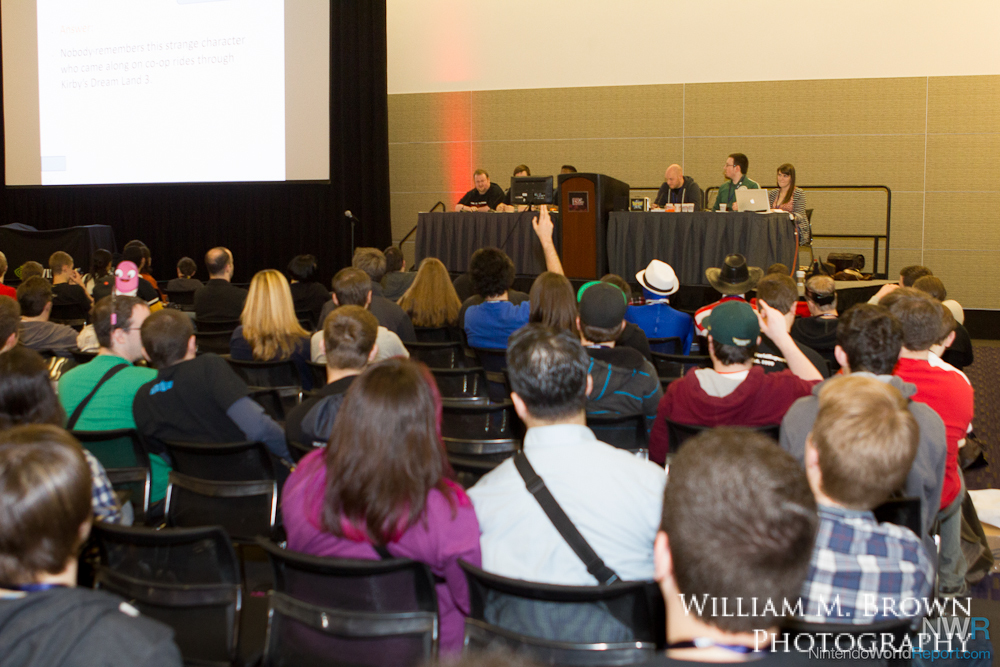 At 10:15, I finally arrived to the Connectivity panel Scott, Neal, and Lauren were running. The game of Jeopardy was awesome (as expected), and I received a light tease from the panel after my phone went off (the crowd concealed my identity—until they figured out who I was). My favorite part of the whole thing was the impromptu Q & A session (in which there was one kid no older than 13 who likely knew more about video games than any of the contestants, or staff, for that matter), and an amazing Ness cosplay complete with wiffleball bat. Afterwards, there was more StreetPass cycling and general hanging out, where I met (in addition to those previously mentioned) Jared, Karlie, Jon Lindemann, Billy Brown, and Guillaume—all awesome people (of course).
Now it was about 11:15, and there was about 45 minutes of down time until everyone was supposed to meet up again. With this opportunity, I quickly went to the show floor to see if the rumors I was hearing were true. I gunned for Lollipop Chainsaw, where, to my great joy, Machinima was interviewing Suda51. Immediately after, I (politely) rushed him to see if we could get a picture together. Thankfully, we could.
Afterward, I went back to the floor, immediately getting somewhat intimidated by the absolutely immense scale of things. That quickly subsided, however, once I realized how amazing of an environment it was. Every PAX-goer was polite and considerate, the bathrooms were pristine,and everyone was friendly enough that I could say hello to someone and make a friend instantly. Although I didn't get to play anything more than a quick round of Mario Tennis Open (it's all right), I still had a blast in the remaining half hour, even getting a picture with the guys from Mega64 (though Rocco's head got blocked out by mine).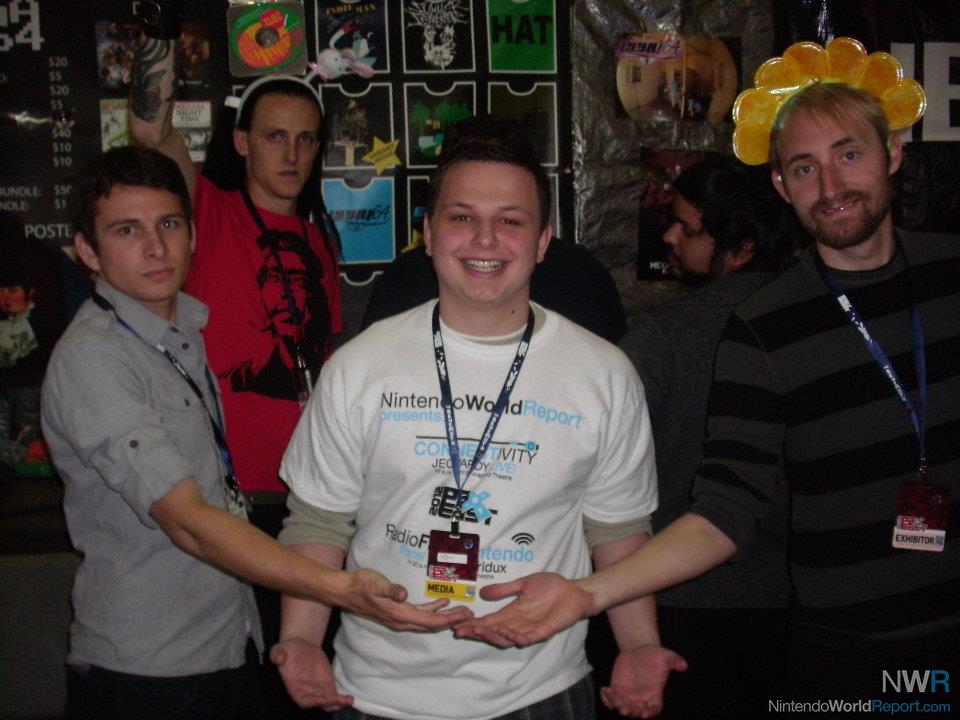 Noon signaled the staff meet-up outside of the Classic Console Freeplay area, where we all used StreetPass in silence for about 10 minutes before deciding to get to Dim Sum in Chinatown, where I brought shame to those who know how to use chopsticks and ended up trying more new foods than I thought. (The MVPs were definitely the barbecue pork buns and fried turnip cake). The best part was that the total for 12 people actually ended up being well below 10 dollars per person, a fact more perplexing than pleasing once you understand how much food was absorbed by all of us.
Comfortably filled and ready to go, we went back to the show floor, and this time, I was determined to play all the games I could. Well, I was, until Lollipop Chainsaw, Aliens: Colonial Marines, and Max Payne 3 all had waits of over an hour. So, I went to Nintendo's booth again to see if I could wrestle up a pack of Kid Icarus cards. As it turns out, to get the awesome Nintendo swag, you had to play a round of Kid Icarus: Uprising multiplayer, but there was only a 10-minute wait, so it was cool. I waited, tried to get Jessie Cantrell from Nintendo Show 3D to notice me while waiting (and didn't), and ended up trouncing the other Light vs. Dark team. After getting the pack of cards, a Nintendo rep gave us all a generic "admit one" ticket, which allowed all Kid Icarus players to get a free 3DS t-shirt, Zelda comic, Spirit Camera holographic, and Xenoblade poster. I just wanted the poster and the shirt.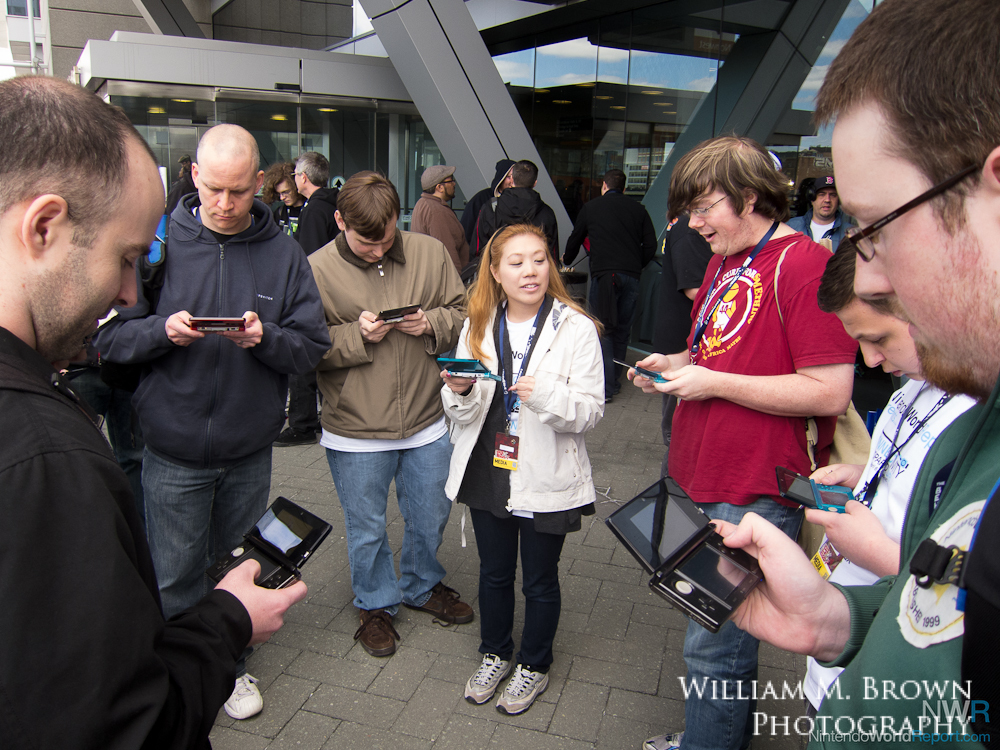 After that, I went to the other game line that was short and I had interest in: Joe Danger: The Movie. For those of you who don't know, it's a vehicle tilting game (think Excitebike with more focus on tilting to land correctly) coming to PSN and XBLA. It was damn awesome, and anyone who played received a free code for either version of the original (a 15 dollar value!). That's coming out this summer, and the guy who I talked to (who does art for the game) placed the inspiration for the titles in old games on the original Nintendo and Sega systems, a fact which makes sense once you consider how much platforming they manage to squeeze into a racing game. Unfortunately, I wasn't able to play Bit.Trip Runner 2, as I totally forgot, but Neal says it's awesome, so I'm still pumped for that.
To see the player side of PAX, I went to the Handheld Lounge, possibly the most relaxed place I've ever seen. The room was just a hallway with Sumo chairs, which are very comfortable beanbag chairs, set up for socialization or play of any kind. I cycled through more StreetPasses there (up to about 100, and that's because I was barely doing it), and met a guy who told me how to get swag bags. Upon finding out, I immediately went to the massive line in the food court,which only took about three minutes to get through due to the efficiency of the staff. Inside the Magic the Gathering spaghetti string bags were advertisements, one month of Xbox Live Gold, a deck of Magic cards, a code for Magicka, and a boxed copy of Rift.
Around 4:30 PM we all met up at Square Enix to see Final Fantasy: Theatrhythm, Kingdom Hearts: Dream Drop Distance, and Heroes of Ruin. Since this was my first press-only gathering, I had absolutely no idea what would happen. It ended up involving all of us stuffed in a hotel suite with reps describing games to us while we played, with the entire room being remodeled seemingly overnight to include multiple televisions, multiple 3DS setups, and an entire table of excellent snacks and high-class water. We finished up at about 5 PM.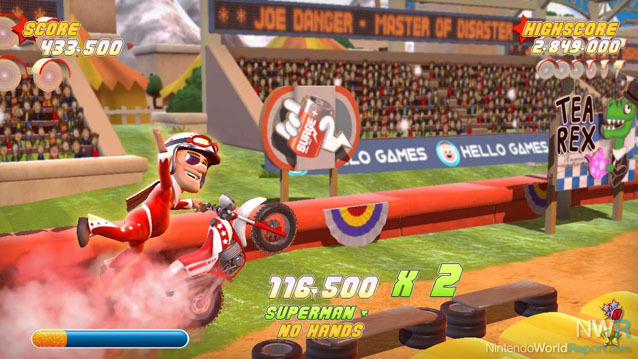 When we got back, I didn't really do much on the show floor, and instead elected to play on the Vectrex, an old console self-contained in a monitor featuring vector graphics and overlays. The game I played, Tour de France, was likely the least exciting game I've ever played (you "race" people on a bike—that's it), but the idea of finally playing a system I'd only read about in retro gaming magazines was incredible, and easily a highlight of the day. When I finished, I went a few doors down to the Console Gaming Room to play some Super Smash Bros. Brawl with Jared, Neal, Scott, and Jon. Jared wrecked everyone, though Scott followed him closely. I ended up in the same tier as Jon and Neal because I used my Captain Falcon as great spamming material, a handicap I gave myself for having not played the game in two years (as well as generally sucking at competitive video games—I admit it).
At 6 PM, I went back to the show floor to see all the booths closing down, a strange sight considering the convention hall closed at 2 AM. While I'm glad I had a full day to partake in the "fresh gaming" experience, I am slightly saddened that I never got a chance to play Theatrhythm. I made my way back up to the stairs to see Neal about to sign up for the 6 PM Kid Icarus multiplayer tournament, only to join Jon, James, and Karlie on their way to the Classic Arcade, which tries to effectively recreate an arcade from the 1980s. I wasn't alive then, but going by my imagination and interpretation (based on '80s movies), it passed with flying colors. Games like Space Invaders had gigantic lines, so I ended up playing many games I had never heard of. I, did, however, get to play the recreation of a really old pinball table called King of Diamonds, which is far less exciting than it sounds once you consider how primitive some old tables really are. It was certainly a novelty, though.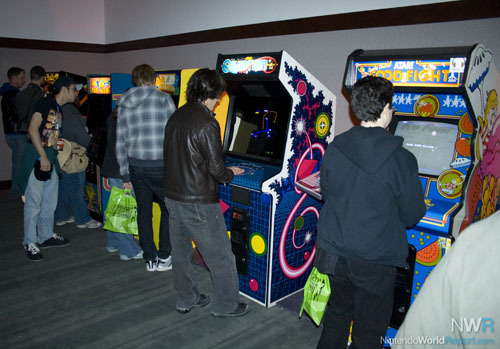 After losing track of the three people I came in with, I went back to the Kid Icarus tournament to see Neal becoming a finalist despite not having use of the Circle Pad Pro to accommodate his left-handedness. My last hour (until 8, basically) was spent there, scanning through StreetPasses and general hanging with Neal and Scott.
StreetPassing was one of the craziest things from the whole day. As one of the people checking the least, I still ended up getting 150 StreetPasses (and all of the panel puzzle completions to go along with it), 100 Kid Icarus gems, tons of Formees, and general stuff in Nintendogs and 3D Land. After meeting my sister on the system over 50 times and meeting only about 10 people otherwise (I specifically remember going to a Boston Red Sox game where not one person was met), I was blown away that this many people even owned 3DS systems. After a while though, I really started to question the fun part of what I was doing—cycling through my plaza and Find Me II for what? Hats? At least Kid Icarus had the weapon gems, leading to me getting a nasty Phosphora Bow once I earned up enough hearts. Few others shared my stance to any extent, which I suppose provides something to be glad about.
At the end of the day, I went home to get dinner from Boston Market and reflect. As I look at my writing, I realize how many memories I have here that will last for a really long time. Hey, look! In this paragraph, I went to a press appointment for the first time! Hey look! In these paragraphs, I make a bunch of friends and meet an icon of mine responsible for the No More Heroes franchise! PAX East was a turning point for me as a fan of video games, where I felt like I truly went from video game fan to video game fan/media person, and to be honest, it's a great feeling. I'm hoping this is the beginning and not the end of my participation in events like this, and that one of the fondest days I've had in years can only be the first of many.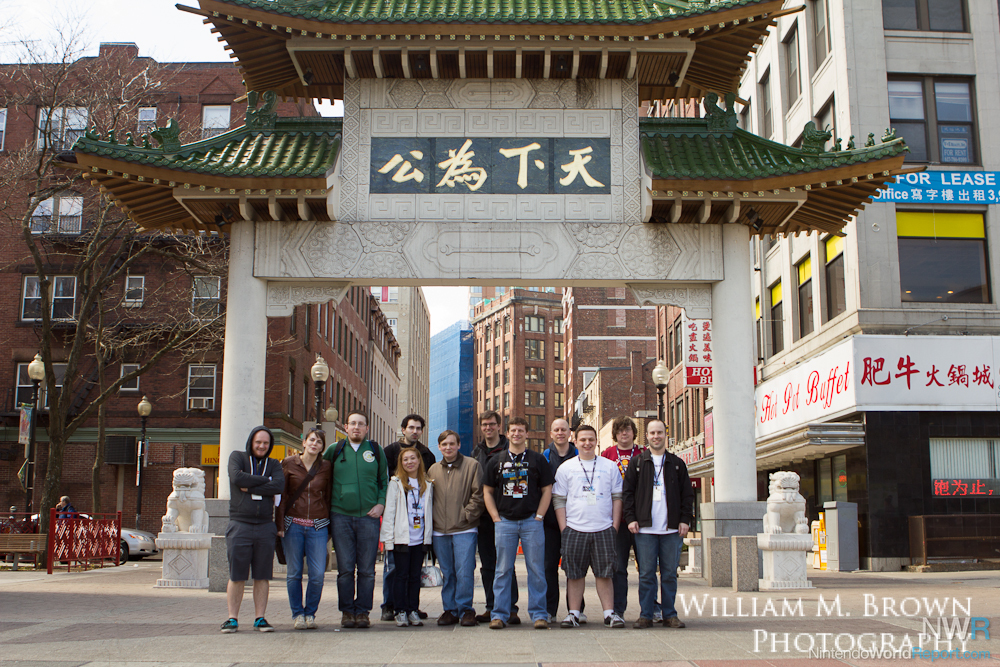 Joe Danger image from EGM, Classic Arcade image from Aggrogate