Read how I unwittingly gave another guy SwapNote and other apps.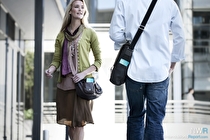 Today I met up with a friend I hadn't seen in a while in a cafe. He was carrying with him his one-week old 3DS system, complete with a Circle Pad Pro and Monster Hunter 3 (tri) G. His 3DS system menu consisted of the basic few apps that come with every system, meaning it was lacking the eShop, Nintendo Video, SpotPass TV, and all the other apps I'd been used to having for a while now. We exchanged friend codes wirelessly—there was some delay, possibly even a crash (on his side) because it seemed to take forever—but eventually we became 3DS friends.Then we swapped games for a bit while chatting; I let him have a go of my copy of Super Mario 3D Land, and snapped on the extra Slide Pad together with his Monhan.
Immediately he was asked to update his 3DS, with which he presumably got the new friends list. The cafe we were in had Wi-Fi, the kind you had to pay to access, but strangely I kept getting orange lights telling me various staff members of NWR were coming online. Maybe there is a super-minimal amount of bandwidth you can access for free? I have no idea. After we'd had an hour or so gaming and chatting, we gave back our respective games, agreeing next time we'd get copies of Mario Kart 7—which we're both expecting for Christmas—for some battling. However, I noticed on his menu screen there were now three presents (i.e., newly downloaded applications) waiting to be opened.They were SpotPass TV, Pokemon BW and the brand-new SwapNote, which I'd only downloaded yesterday.
This raised the question, how on earth did he get these new apps without accessing the eShop (which he doesn't even have installed!)? The only logical answer is that I virally shared them in some way or another. It may have been during our friend code swap, or I could have just been doing it in the style of a local SpotPass—my system becoming the access point, his being the downloader. Either way, this is a very intriguing way of making sure new 3DS owners, possibly without the know-how of updating or downloading new software, get new applications. Many households have Wi-Fi in Japan, but the amount of internet-connected Wii's and 3DS's in those houses might be much lower than you'd think. My friend, for example, has Wi-Fi, yet didn't know about the eShop, downloadable games or even StreetPass! Other than the recent Mario Kart 7 update, have any of you experienced viral updates?