Overall pretty useless.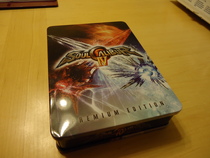 Exciting story about this special edition: it took like six weeks to get to me. I'm not sure whether the United States Post Office has started using box tortoises to make deliveries, but I was going crazy after about two weeks because Best Buy's website claimed I'd get it in between seven and ten business days. This did not happen. I really wanted the special edition for reasons I don't remember now, and had I known then what I know now, I would have saved the ten extra dollars it cost. With the recent announcement of Soul Calibur V, I thought it might be a good time go over the previous game's special edition, as it might serve as a warning against buying the next game's premium version.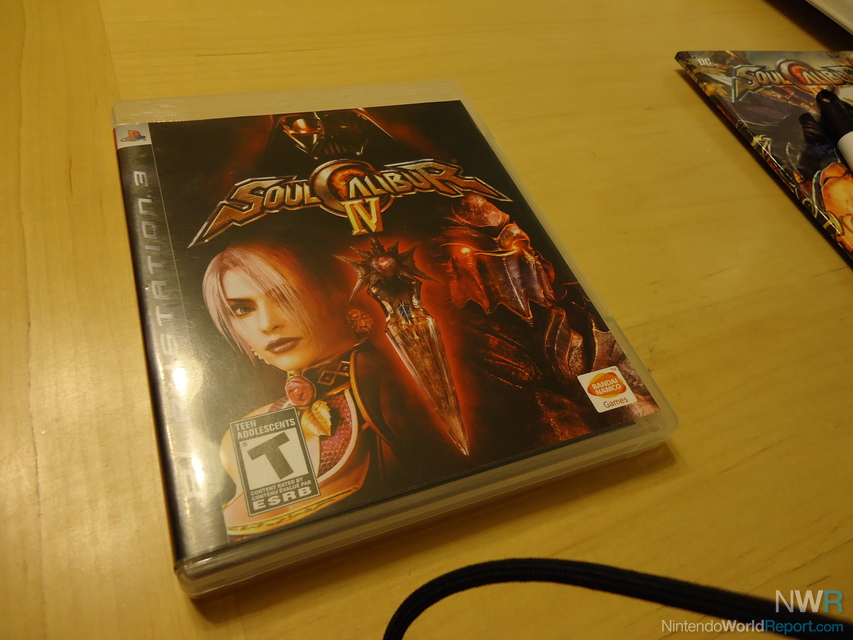 Of course, it comes with the game. Everything is packed into the steel case shown in the opening picture, and you should know that the steel case is impressively thick, yet holds virtually nothing. Its heft is not caused by its contents, but rather its molecular makeup.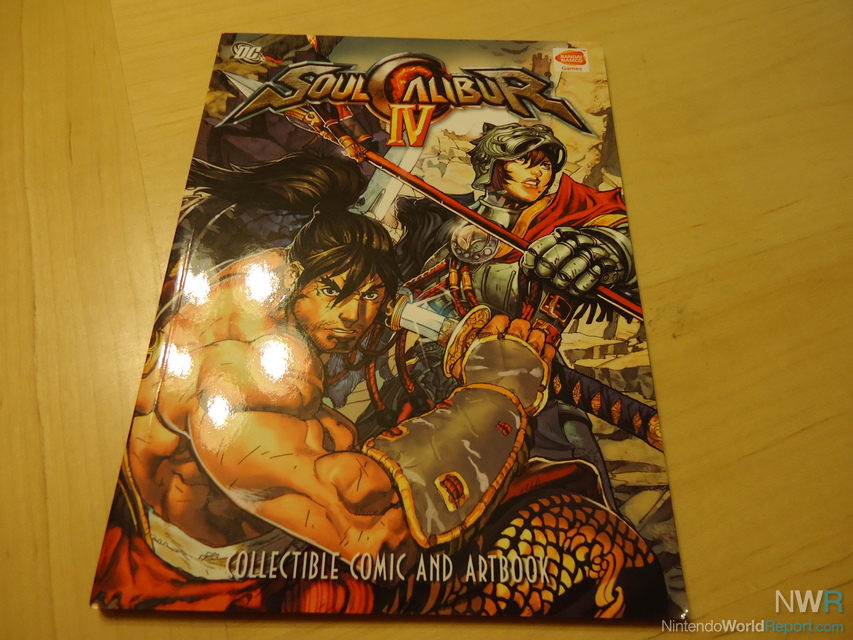 There's this comic/art book. It's nicely illustrated and printed on reasonably thick, glossy paper. I think it's supposed to be a prequel to the game, but it's not really clear at all. It just shows off some good comic representations of Mitsirugi, Hilde, and Tira. Once you read the comic once, you'll never touch it again.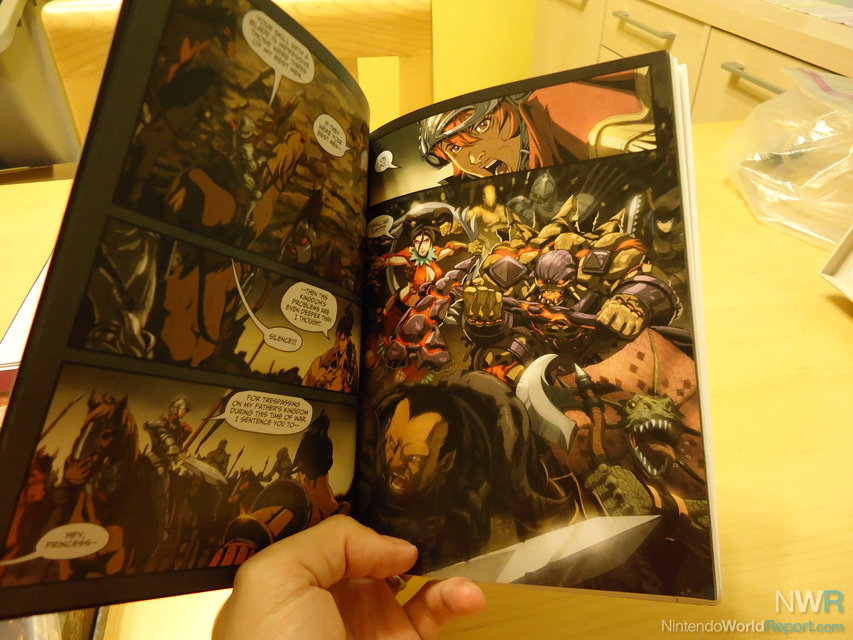 See? Nothing too special.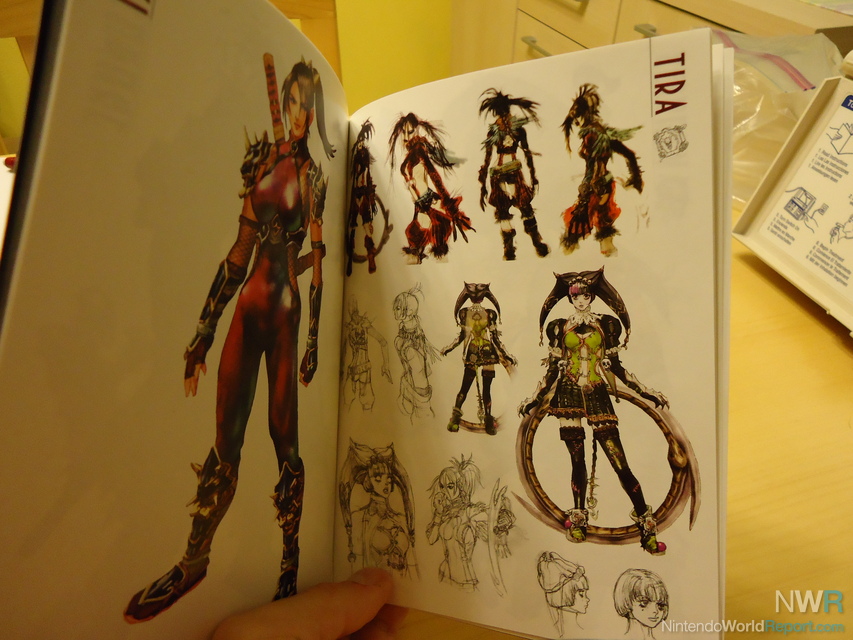 The concept art section is pretty nice, however, and includes a lot of scratched costumes for the game's menagerie of characters. There are two pages dedicated to Isabella Valentine. I think you can guess why.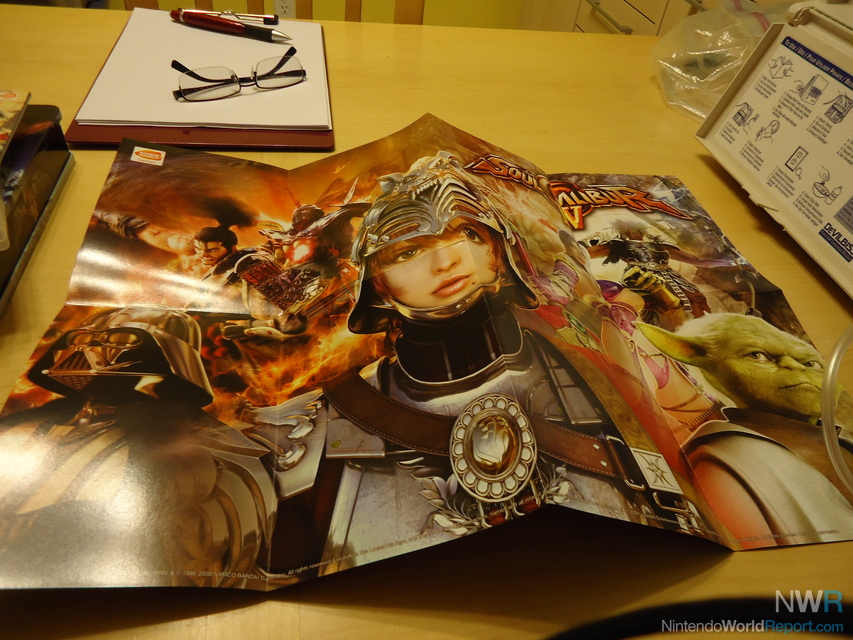 Then there's this double-sized poster. On one side, you have Hilde flanked by a bunch of other characters. Having never been a poster guy, this is pretty throwaway to me. But the art is nice...I guess. Now, let's check out the other side. It's horrible.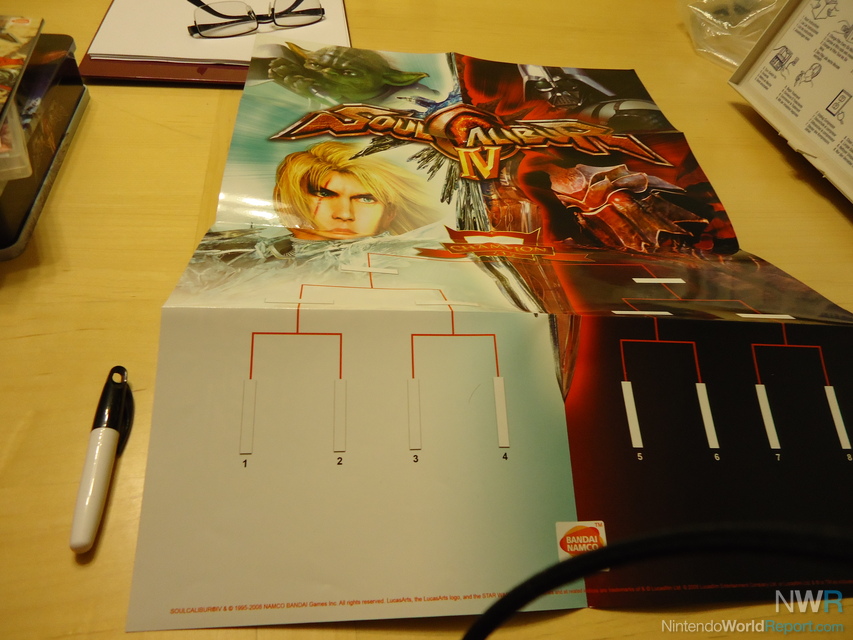 I don't know if you can tell, but this is a tournament bracket sheet. If you ever have a ton of people over who are all hardcore Soul Calibur IV fans, well, you can thank your lucky star that this special edition included a bracket sheet. It even comes with a miniature Sharpie pen (left)! This seems like a monumental waste of space. Back in my day, we used a NAPKIN AND A PEN. I'm also pretty certain you'd have to laminate this poster if you wanted to use the marker on it more than once.
There was one final extra: "exclusive" DLC which unlocks every character's ultimate weapon and joke weapon, which is actually pretty nice, and bonus costume pieces...in which you can make a...sexy maid character. That may be a Japanese perk, because it's not working for me. I guess you could use those costume pieces to re-make Valeria from SC3 but I'm not seeing much utility beyond that.
If ever there was a "waste of space" special edition, this is it. I use the steel case to hold all my "misc." special edition stuff, which I'll probably discuss next time.