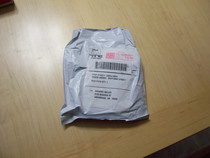 The thing came in a relatively flat bag. Tearing open said bag revealed a small rectangular item wrapped in paper.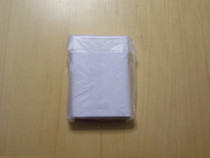 My mission was clear: rip the paper off my promised prize and bask in the glory that is the Wii Remote Holder. It will be EPIC!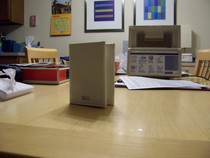 Okay, "epic" might be the wrong word. "Sort of cool" might suffice. Notice that the sides fold in. The holder is made of white plastic on the front and back, and split plastic on the sides, and thick blue fabric inside. The white plastic exterior is stitched to what I imagine is a thick plastic panel between the outer covering and the blue fabric. To transform the folded holder, you just...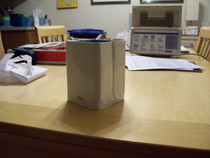 You unfold it, and the bottom folds down to form a solid platform inside, kind of like a banker's box (but much smaller). Notice the stitching along the outer frame. It rather muddies the appearance, to my mind.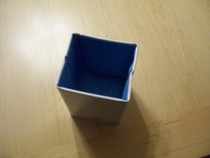 You can put your weed in there.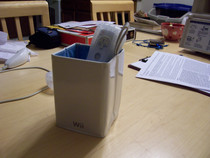 The Wii Remote with condom fits nicely within its sturdy confines. However, and this is the ultimate test: will it fit both a Wii Remote and a Nunchuck, as advertised at Club Nintendo?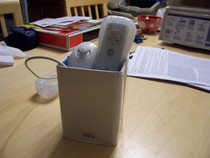 Well...yes. The cord kind of billows out, though. This is certainly better than the alternative (laying on the entertainment center).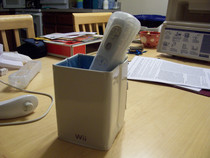 Maybe THIS is the ultimate test. Will it hold a Wii Remote with Wii Motion Plus attached? Yeah, no problems there, either.
The product certainly does as advertised, but it's not the prettiest way to store your Wii Remote. It's not like you have tons of options, and for 300 points it's not bad. I'm tempted to get a second one, seeing as I have two Wii Remotes, and doing so would free up room in my accessories drawer (which is very full). We'll see. I'll probably try one of those DS game card cases next. What say you, dear readers?